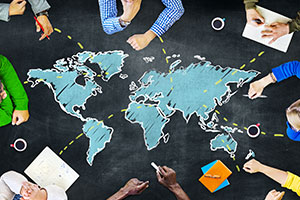 Group Travel Agents, Be Gone! (Well, Not Really)
City Express Travel Adapts to a Changing Market
In 1986; when I entered the travel industry to serve the travel needs for students and churches group travel. It was different back then, with almost 30 major airlines including good ole Pan-Am airlines, Eastern airlines, Piedmont, Midway & TWA just to name few. It's 2018 and there are only 11 major airlines left in the US to compete.
President Jimmy Carter signed that airline deregulation act in 1978 causing all kinds of crazy stuff in the industry. It did a little good sometimes but many of the times, it didn't. Many airlines just simply could not survive shrinking to today's total of only 11 major airlines.
One thing is for sure, the airfares could not be managed by the government anymore, but the service by the airlines suffered as well resulting in the downfall of so many of the airlines.
What happened to travel agencies serving churches and mission and schools for their group travel needs? Sadly, many travel agencies closed the door as well, but few learned to survive, to be more creative & innovative. But travel agencies like City Express Travel managed to add value to group travel managers thus why we are still thriving in today's market.
What Makes Us So Different?
The magic touch by airlines may not be there, but City Express Travel still remains to be one of the prominent Christian travel agencies in the USA. The secret is very simple, we listen. We listen to our group leaders; we cater to their individual needs. According to me and my team, the internet will never take the place of human touch; it will not listen the way human beings do, requiring human ears and human voices. Thus City Express Travel is not gone but is thriving better than before.
Interested in working with us? Request a quote with us today to start planning your trip!
Share This Story, Choose Your Platform!